"May the merit of this vast undertaking ensure that the teachings which guided Tibet for twelve centuries become a source of wisdom and peace for all the world!"
Tarthang Tulku Rinpoche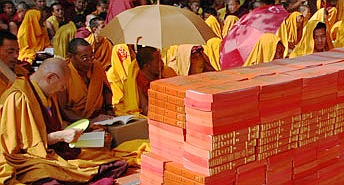 Bodh Gaya scripture distribution
The "Adopt-a-Dharma-Book" program offers those with love for the Dharma a unique opportunity to join the efforts in preserving Tibetan sacred texts. You can support the efforts to save the old Tibetan knowledge from the disappearance, a part of our world cultural heritage. Thus a comprehensive material to study can be provided to the Tibetan community so that it can retain their Buddhist tradition.
When, in 1959, the Chinese invaded Tibet, and deliberately destroyed not only 6000 monasteries , but also the majority of sacred texts. Only some of it could be smuggled out of Tibet by the refugees
The Tibetan Lama Tarthang Tulku has been collecting these sacred Buddhist texts (Yeshe De Project), reprinting them at Dharma Publishing international (California). Western technology has proven to be crucial to book reproduction on this vast scale.
You can help by a donation or as a volunteer to save and spread the old and extraordinary valuable spiritual knowledge.
Your engagement will be very welcome and deeply gratitude.