"Working for the higher purpose of preserving the wisdom of the East, we enjoy the challenge of applying the technology of the West. And we have the satisfaction of knowing that every book we print has the power to bring clarity, peace, joy, and love into the world. We hope these scriptures endure for a long time to come."
Tarthang Tulku Rinpoche
Volunteers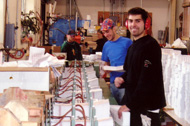 Please help us with the production and distribution of the Buddhist scriptures from Tibet as a volunteer. Your commitment is very welcome.
Dharma Publishing international is operated exclusively by volunteers. We reprint Tibetan Buddhist text in the original language and also translated version of occidental languages.
A typical week for a volunteer covers six working days from 8 AM to 5 PM with a lot of opportunities to practice the Buddhist skillful means, adopted by Lama Tarthang Tulku. In the evening you can dedicate yourself to the study of Buddhist philosophy, Kum Nye (Tibetan Yoga) or meditation. The whole program represents a singular opportunity for your mental and personal development.
For an obligation of 6 months or longer as a volunteer you will receive also a small pocket money.
Dharma Publishing´s main office is at Ratna Ling, in the forest of the Sonoma Coast of Northern California. Our vision and commitment is to make these teachings available throughout the world.
Feel to request more information:
---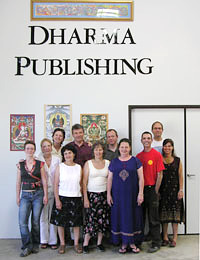 Dharma Publishing is a non profit organization that is entirely run by volunteers. If you wish to contribute your time and energy please feel free to ask for an application form using the form below:

Dharma Publishing
35788 Hauser Bridge Road
Cazadero, CA 95421 (USA)